7 Tips To Gain An Edge Over Your Competitors Through Your Website.
Is your current website really working? Do you actually know?
It is common for many businesses to rely on their website as a plan of gaining an edge over their competition. However many do not have a clearly defined plan as to how they will achieve this competitive edge. Without a plan for success online it is almost impossible to gain an advantage.
Do you know your competition?
Who are your customers?
Does your website standout from the crowd?
Is your marketing aimed at your target market?
How are you keeping your current customers?
Are you exploring new markets/products?
Are you maintaining your edge?
The Internet can be one of the best marketing tools that a small business has access to, but to achieve success takes planning and research. This research can be conducted by the business owner, his marketing team or his digital marketing manager, in many cases this will mean the web developer.  Unfortunately not all web developers are skilled at digital marketing and just focus on the online presence rather than what the customer is actually looking for. This is where a clear plan throughout the website that enhances the customer experience really works.
As more and more businesses use the Internet for marketing by establishing their business' websites, the online space becomes more crowded. As more competition comes along this can sometimes create a saturated marketing strategy where everyone is doing exactly the same thing. This is where your website needs to standout from the rest and be noticed by your customers.
In order to have a competitive website, there are certain strategies that when implemented allow you to gain an edge over your competition. Following are 7 common strategies that you can use to gain that advantage.
1. Know your competition.
Who is your competition? What are they doing online? What is working for them and why? It is a relatively simple task to research the businesses that offer the same services or sell similar products as you in your market through simple Google search techniques. Once you have identified who your competition is online, you then have to go the extra mile and look further into their websites and take note of what they are doing and what are their unique selling points. You can even mix all these things up and create a new idea out of all the data you have gathered from your competitors.
Once your have identified what your competitors are doing you then have a good idea of what you are up against. Can you compete against them? How? What makes my business different or why do my customers want to buy from me?
2. Determine your customer base.
One of the most common misconceptions with business websites, is that now that you are able to reach the world through the internet, that does not automatically mean that you are going to increase your presence online. One of the major drawbacks of marketing online is that you are now literally competing against the world. Therefore, it is actually not a good practice to just blast your website to everybody in a scatter gun approach. It will tend to be overblown and your website will not be shown to the target market at all.
You must streamline  your approach to your target market but to do this you first must understand their needs. Ask yourself what are my customers looking for when they search online? Do I answer that query? A company that understands the needs of their customers is the one that has the edge as it creates a strong following and even more patronage from its customers. this then begins to enhance your ranking within search engines.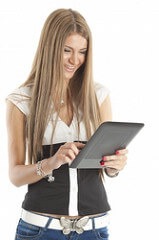 3. Stand out from the crowd.
Your business will be discovered online when you offer something that your competitors do not have. A good place to start is to refer to competitors' websites and see what their selling points are or what offerings are they making that makes them valuable to their customers. What your competitors are doing and then see if you can approach it from a different perspective or angle. Maybe you can target a slightly different demographic or niche market.  Build a website that caters to this market and will make your business stand out from others, this will get customers seeking you out rather than your competition.
Smarter Web Solutions has a range of website management and SEO programs to suit your needs, for further information contact us.
4. Ensure your marketing is aimed at your target market.
Many businesses have little understanding of how to market their product or service online. They hear comments that they need to have an online advertising campaign, however unless this has been well defined it will be money wasted in a scatter gun approach again. in my experience a scattered approach to online marketing or advertising rarely works. You may consider increasing your marketing by performing additional marketing strategies but this can only be done successfully once your have clearly defined what it is you are selling and who it is you are selling to. One of your main marketing engines is through your website,once it has been ranked highly enough for people to find it during their online search.
Local businesses may be able to do that by providing physical banners or even fliers in the community pointing to your website. This way, you have more visibility and you can be easily found even without accessing the Internet.
5. Update the image of your website.
Over time all websites begin to look dated as new themes and website layouts become the current trend. This is no different to your current building that houses your business, from time to time your business needs a make-over and your website is exactly the same. Have a thorough look at your current website and see what is working. A good website manager we easily be able to identify things such as which pages on your site are most popular, which ones visitors are engaging with, are you visitor numbers increasing or declining? Check to see if you can further enhance your websites over-all appearance in terms of color combinations or color pairings again peoples preferences change over time. The color palette of a web page and style of a website is the first thing that will attract a visitor and initiate curiosity.
On of the major components to a business's success online is their ability to build trust with their potential clients through their website.
6. Keep your current customers
Keep your current customers and do what it takes to keep them, it is often said in marketing that it costs 5 to 7 times as much to get a new customer as it is to service your current customers. Patronage and loyalty is something that needs to be earned especially for businesses online, thus it is vitally important to take care of your returning customers. Such kinds of customers are hard to come by and it took a lot of effort and work in order to achieve such status. These customers also provide steady sales for your business concentrate on these clients before going chasing new clients.
7. Explore new markets.
Be ready to expand by looking for new markets, what are the innovations coming to the market you operate in. Try and challenge yourself to visit a certain kind of market that you didn't bother to look at before. Keep looking for new ideas on how to expand your business. Do you have the capacity to generate an additional product or offering in order to diversify and have room for expansion.
Maintaining your edge
Maintaining your marketing edge is becoming more difficult as many more businesses expand online, therefore it is important that you continually strive to improve your website to grow your business.
For more information on website renovations click here
To find out more about the services Smarter Web Solutions provides click here